Technical Data
1

Number of Operator

9 persons

Mill Roll stand & Single Facer: 1 Double Facer: 1 Slitter Scorer & Cut-off: 1

Stacker: 2 Boiler: 1 Glue system: 1 Chief:1

2

Running Width

1800mm

950mm

3

Max Speed

100 m/min

4

Working Speed

80m/min

5

Monthly Output

500~800tons (1 shift with12 hours /day, 24 working days/ month)

6

Maximum sheet size

1800mmX 3000 mm

7

Minimum sheet size

125mmX500mm

8

Paper Grades

90 g/csm – 180 g/csm (Medium)

110 g/csm – 400 g/csm (Liner)

9

Adhesives Required

starch

10

Starch consumption

3 ply: 10-15g/㎡

5 ply: 20-30g/㎡

11

Steam Pressure

1.2 MPa

12

Steam Consumption

Approx. 2800~3000kg/h

13

Occupied Space

Approx. 10 m X 48m (Incl. operation space)

Highest point is 4.25m

14

Power Capacity

Approx : 181Kw

15

Power Required

380V, 50HZ, 3 PHASE

16

Paper going

Drive side (left hand or right hand)

17

Flute

A, B, C or E (UV flute)

18

Delivery

120 days after the receipt of down payment

19

Quality Guarantee

1 year after installation
Commodity Name, Quantity
No.

Name

Qty

1

800A Rails & Trolleys+ZP350Turnplates

3

2

WZJ-A1800 Mill Roll Stand (Motorized lifting and clamping, pneumatic brake, expansion chuck)

3

3

DMWL-A1800 Single Facer (steam heating, fingerless, Tungsten corrugating roll A/B/C Flute) Flute type is to be confirmed)

2

4

XYR420-1800 Pre-heater

4

6

YRA600-1800 Triple Pre-heater

1

7

GQ1800-II Conveyor Bridge

1

8

RMJ-1800-II Gluer

1

9

ZH-A1800 Double Facer (425mm*13 pieces hotplates, pressure rolls, upper belt cleaning device, temperature digital readout)

1

Drive Roll Stand (variable frequency control)

1

10

SBFY-A1800 Slitter Scorer (4outs, Variable frequency control)

1

Trim shredder system

1

11

DHQ1800 NC Cut Off (simplex)

1

12

DS Stacker(simplex)

1

13

ZJD Glue preparing and Supplying system

1

14

Compressed Air system

1
Mill Roll Stand (Mechanically)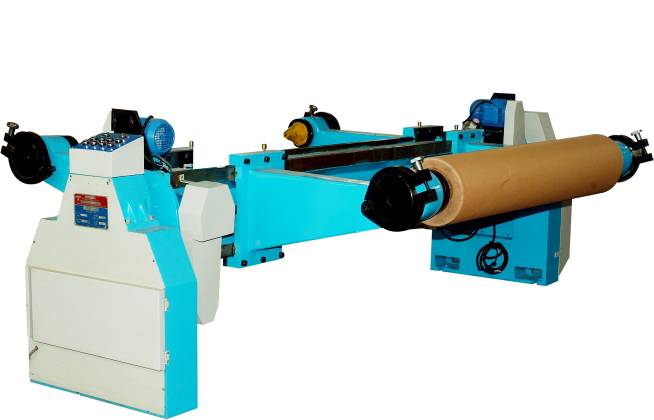 Main Structure and Features
Motorized lifting and lowering with overload protection device

Motorized clamping/unclamping and centering with overload protection device

HT200 Iron cast clamping arms

Solid operation cabinet

Pneumatic web tension adjustment

Expansion chuck

 
Main Structure and Features
Motorized lifting and lowering with overload protection device

Motorized clamping/unclamping and centering with overload protection device

HT200 Iron cast clamping arms

Solid operation cabinet

Pneumatic web tension adjustment

Expansion chuck
Single Facer (Fingerless)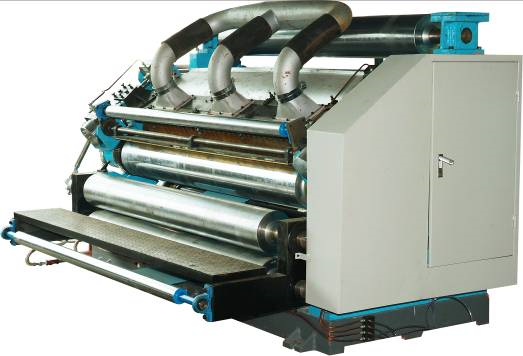 Main Structure and Features
Excellent appearance and compact structure

Vacuum suction Fingerless design provides perfect flute formation and is free of high-low flutes

Corrugating roll (with diameters of Φ263/Φ266), 48CrMo alloy steel, and induction hardened with hardness up to HRC55~60, which provides remarkable wear resistance and long life

Main bearings, lubricated with high-temperature grease, selected to provide outstanding sealing performance and reliable lubricating.

Applicator roll loading and unloading are pneumatically controlled with quick response and excellent impact absorption

Gap adjustment between applicator roll and doctor roll is accomplished by worm and worm wheel mechanism

Self-circulating glue system, applicator roll is immersed within glue pan

Pressure roll (Φ262.5), applicator roll(Φ210) as well as doctor roll(Φ118), top quality forged steel, also hard chrome-plated and ground.
Main Technical Data
Designed speed:100m/min (steam heating)

Available width: 1800mm

Available paper width : 850~1800mm

Total power: 33Kw
Overhead Bridge Mounted Pre-heater
Main Structure and Features
Preheating Roll:There is steam in the roll to heat the web or single-faced web.

Tensioning Roll: Guide the moving of the web.

Wallboard: To support and locate the machine.
Main Technical Data
Available width: 1800mm

Pre-heating roll diameter: Φ420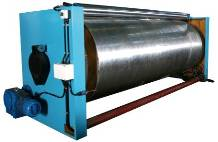 Main Structure and Features
Rotary preheating roll driven by paper with manual brake enhances heat conduction.

Motorized wrap angle adjustment, meeting different paper and working speed.

Spraying device for pre-conditioner to adjust moisture content of the fluting paper
Main Technical Data
Available width: 1800mm

Pre-heater roll diameter: Φ600mm

Wrap angle adjusting range: 600~2200

Power: 0.55kW (for wrap roll adjustment)
Main structure and Features
Frame made of channel iron, angle iron and iron plate, the main frame made of І-shaped steel.

Handrail and full covered reinforced footplates for safety protection.

Inclined belt conveyor with cotton belt for single-faced web lifting.

For DMWL-A single facer, synchronization is realized with chain by single face.

Motorized web running controller
Suction tension control device
Vacuum suction to tension the web. Vacuum blower force is adjustable.

Vacuum suction box with width-related suction range.

Motorized web edge alignment.

Two sets of operator control panels with one at bridge and the other at glue machine.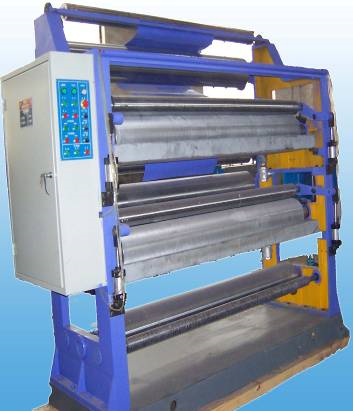 Main Structure and Features
Pneumatic pressing with quick acting and non-waste

Self-circulating glue supplying system with adjustable glue quantity

Preheating device quickens glue gelling

Synchronization with line is kept with external drive source

High precision engraved and hard-chrome plated applicator roll (30LPI)

Hard chrome-plated pressure roll, doctor roll, preheating roll as well as guide roll
Main Technical Data
Available width: 1800mm

working speed: 100m/min
Main Technical Data
Designed speed: 100m/min

Available width: 1800 mm

Total power :45Kw
Main Structure and Features
Surface ground steel hot plates, 490mm wide, are of inner whirlpool structure, favorable for steam distribution

Dense weight rolls of heating unit are lifted and lowered as a whole with motorized height adjustment.

Dense weight rolls of cooling unit ensure perfect forming quality.

If configured with mechanical cut-off, the drive unit must be driven with external power source, while with computerized cut-off, the drive unit is driven with self-power.

Pneumatic tension for upper belt

Large engraved drive roll stand (Φ625mm), covered with herringbone wearable rubber

Hard chrome-plated weight rolls as well as guide rolls

Hot plates: 13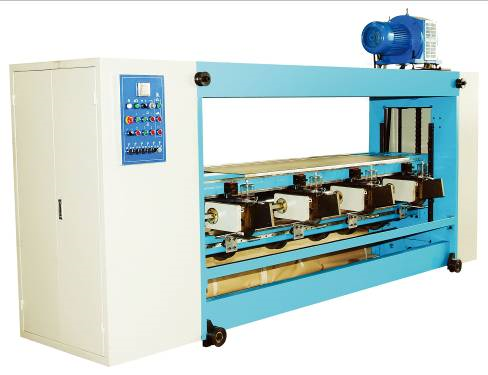 Main Structure and Features
Precision ball lead screws for tools setup

Manual tool setup

Adjustable slitting depth and easy blade disengagement.

Scoring head introduces whole mechanism design with little radial and end face run-out

Self drive source, synchronizing with the line automatically.

Motorized adjustment for scoring depth to meet different caliper needs

Motorized lateral adjustment for the whole machine to meet web deviation.

New thin blade enables clean cutting edge at high speed.

Automatic blade-regrinding and blade-lubricating devices keep tool-edge sharp during operation and saves maintenance time.

Pneumatic lifting and lowering of working station for quick order changeover.

Male-to-female scoring profile

4 outs
Main Technical Data
Available width: 1800mm

Designed speed: 150m/min

slit-to-slit distance: 125mm

score-to-score distance: 80mm

Tool set up precision: +1

Total power: 8.3kw (without blower) 3kw (with blower)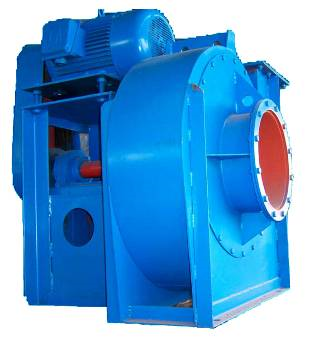 Shred the waste side trim and scrap out from the slitter scorer, then convey to the waste-collecting site through high-pressure suction tube.

Mass flow, high pressure, strong shredding force, and long conveying distance.

Especially suitable for medium or advanced level production line

Working pressure: 4000Pa

Air flow: 4200m3/h

Shredding capacity: 1.5t/h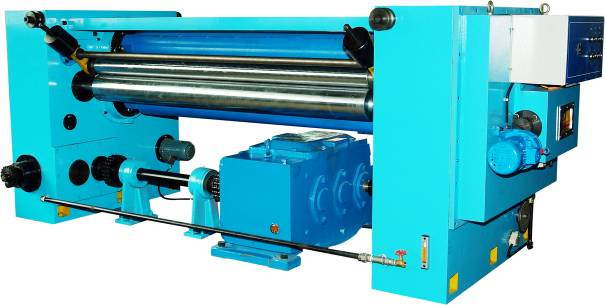 Main Structure and Features
It is the upgraded version of DHQ

Two knife rolls rotate to cut the board with shearing difference, featuring lower cutting force and lower noise

Precision adjustable anti-backlash gears ensure accurate mesh between knives

Computerized order management system

The drive unit is driven with self-power.

Knife bars: Φ245, fine-machined & treated with dynamic equilibrium

Cut knives: Quenched steel, T8A
Main Technical Data
Designed speed: 100m/min

Available width: 1800mm

Cutting length: 500~3000mm

Cutting precision: ± 1mm

Total power: 39 kW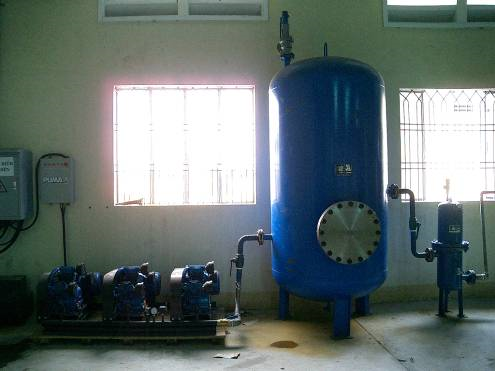 Supply compressed air to the complete line, keeping stable working pressure.

Centralized air supplying with air compressing station.

Compressed air filtered at the inlet is clean and stable.

Individual control of each unit independently of each other.

Adjustable pressure with pressure meter for each unit.

Accessorial copper pipes and PU pipes are wearable.

Re-filtered and lubricated with oil mist prior to entering each machine.

Integrated pneumatic and electric control system with one operation panel, featuring easy and convenient remote operation.

Two 0.6m3/min air compressors (power: 3.7kW/set) for lower speed single wall production line.

Two 0.9m3/min air compressors (power: 5.5kW/set), and 1.5m3 air storage tank for double wall production line and singe wall line with width more than 2200mm.

Three 0.9m3/min air compressors (power: 5.5kW), and 2.5m3 air storage tank for triple wall production line.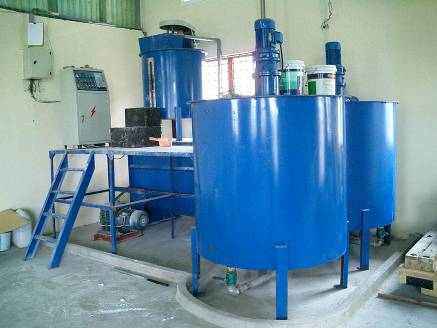 Supply starch adhesive for single facer(s) and glue machine.

Horizontal mixer confects the main glue and carrier glue and then mixes them enough with large volume. The storage capacity of main glue is 1.42m3, Mixer motor power is 5.5kW; the storage capacity of carrier glue tank is 0.57 m3, mixer motor power is 2.2kW.

Storage tank and supply tank is equipped with mixing device, preventing glue from depositing. Storage capacity of storage tank is 1000L. Mixer motor power is 1.5 kW.

Self-circulating glue supplying system with 280L glue return tank on the ground. Automatic glue level control. The returned glue is pumped to the storage tank with self-priming pump (power: 1.5 kW) and then flows to relevant equipment, avoiding glue gelling and solidifying in the glue pan.

Individual glue preparing system is flexible for glue room layout.