High-Speed Double Servo Drive Semi-Automatic Stitching Machine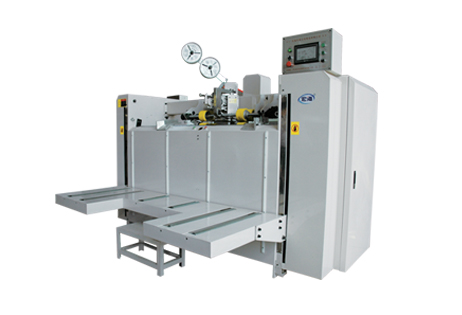 Main parts and function description
France schneider imported double servo drive, accurate, precision mechanical transmission parts, can effectively reduce the mechanical failure rate.

Wei lun touch screen operation, the parameters (screw, screw, nail, tailgate) transform is fast and convenient.

The whole control system adopts omron PLC control system.

After electric baffle, driven by stepping motor, precise size, dimension is more convenient and quick.

All the contactor control box use Siemens brand.

Photoelectric and nearly switch adopts schneider brand.

Bottom die, blade made by Japan's tungsten steel (wear).

The nail head all adopt the special steel production, for the whole computer gongs precision machining.

Single screw /, double nail / /, strengthen nails (/ / / / / / two head is double for single screw) in the middle of a one-time, fit the different demands of different customers to nail.

Transform the carton size and adjusting screw pitch it takes only a minute to complete, greatly save time convenient operation.

Front end paper automatic counting, is equipped with photoelectric sensors on the feeding table, feed automatically rise.

After a period of automatic counting function, completes the product number can fold (1-99) by the number of set points to lose send mechanical end, convenient packing banding.

Mechanical speed: 400 nail/min.

Nail: from 30-120 – mm arbitrary adjustable.

Electric pressure of paper roller clearance adjustment.

Lift table effective height: 900 mm.

Machine covers an area of size: host 2.8 x2.7 x2 meters.

Machine weight: 2 t.

The whole machine of ordering adjustment, can store 100 orders.

The machine into the paper gap adjustment has applied for national patent, patent number: 201320093236.5
| | | | |
| --- | --- | --- | --- |
| Max. Size(A+B)X2 | 3600mm | Min. Length A | 250 mm |
| Min. size(A+B)X2 | 740mm | Max. Height D | 2000 mm |
| Max. size(C+D+C) | 3000mm | Min. Height D | 150 mm |
| Min. size(C+D+C) | 250mm | Max. Nail width E | 40 mm |
| Minimum rock cover C | 50mm | Max. Width of paper | 900 mm |
| Max. rock cover C | 560 mm | Machine width | 2850 mm |
| Max. Width B | 760 mm | Weight (T) | 1.8 |
| Min. Width B | 120 mm | Speed (nail/min.) | 500 |
| Max . Length A | 1120 mm | Nail qty. | 1-99 |
SUPER NATRAJA SERVO TYPE SEMI AUTO STITICHER MACHINE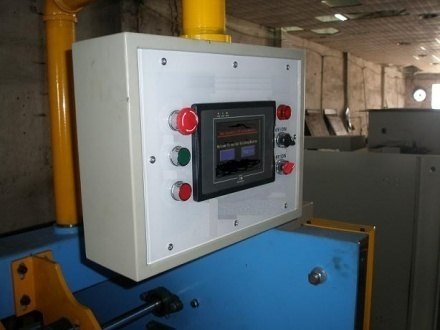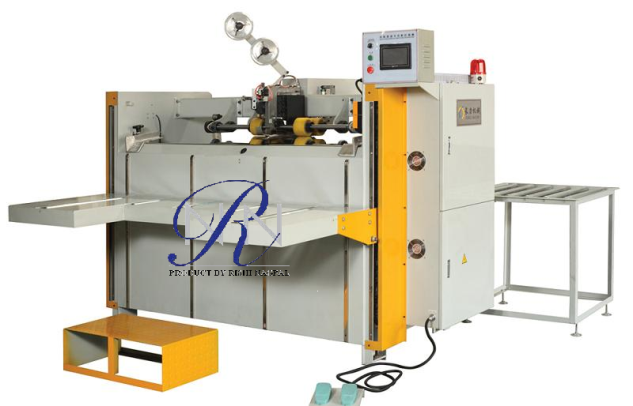 Import dual servo-drive, high precision, and mechanical Transmission part of the reduction can effectively reduce The mechanical failure rate. Touch screen operation, (Nail spacing, nail a few, nail species tailgate) transformations Convenient. The whole control system of Siemens PLC Control system. Air compressor with Taiwan factory Production. Can nail one nail, double nail, to strengthen nails 2 is the middle part of the double-screw single screw a one-time Complete. Can nail a covered cardboard box and not covered Nail line alarm after use. (To avoid leakage arising without nail Line play, bad little nail products). Stapled from the semi-finished Products and packaging to bundle the whole process of placing Only two people operate, and easy operation to reduce wages.
| | |
| --- | --- |
| MACHINE SPEED | 400 NAIL/ MIN. |
| NAILS FROM | 30-60MM (CAN BE ADJUSTED). |
| NAIL NUMBERS | 1-99 NAILS. |
| NAIL KINDS | SINGLE SCREW, DOBLE SCREW,TO STRENGTHEN NAILS |
| MINIMUM PAPER SIZE | 300X606mm |
| MAXIMUM PAPER SIZE | 1500X2400mm |
| TOTAL HORSE POWER | 6HP. |
| MACHINE WEIGHT | 2000kgs |
| PAPER HEIGHT | 900mm. |
| FOR CARDBOARD | 3LAYER / 5 LAYERS CORRUGATED BOARD (3mm to 8mm) |
| NAIL WIRE SPECIFICATION | 2.0mm X (0.65mm TO 0.75mm) |
MAIN PARTS:

Siemens plc control system 'Yaskawa servo motors, drives, Taiwan
Shihlin magnetic switch, proximity switch yang Ming of Taiwan
In addition to bearing seat belt, the two way bearings Japans brands…
Buster the whole group, all with a touch of imported steel production
Computer gong precision machining
Buster blade 'Bottom mold making tungsten steel used in all of
Germany (wear)
Push button switch and trip switch are from Taiwan Tiande
Company
Stitching Machine With Heavy Duty Head
Mechanical speed: 300-500 stitches/min
Power: 2KW
Stitching wire: No. 17 and 18
Dimension: 2460X550X1950MM
Weight: 580kg
The Pedal servo nail box machine is most advanced. It is designed and improved based on the combined advantage of Taiwan high-speed nail box machine and semi-automatic nail box machine. Currently, it is the most advanced and efficient in domestic. It adopts advanced two-set servo motors instead of the traditional electromagnetic clutch brake. Servo motor's features are brake alignment, less energy consumption, electronic device, low failure rate, easy operation, so it is widely applied to nail cartons of different sizes. It is the best choice for the carton factory.
Our machine nail head and bottom die are made of tungsten steel and can wear well. The blade is made of Japanese tungsten steel, which reduced the cost and the trouble of frequently changing blades in traditional nail box machine. Therefore our machine can lower the cost.
The biggest advantange of the machine is to solve the carton shaping problems (Such as carton scissor edge or excessive gap problems) caused by inaccurate carton slotting and groove. Such shaping problems are an insoluble tough problem in automatic nail box machine and semi-automatic nail box machine. It is also the main reason why most customers prefer our pedal servo nail box machine instead of other semi-automatic nail box machine. Controllable nail distance and automatic paper drive system.

Double servo drive, accurate precision, less mechanical drive part which improve the mechanical failure rate.

It is operated through the touch screen. Meanwhile, it is easy and fast to change the parameter such as nail distance, nail no., nail type etc.

Machine bottom die and blade are made of Japanese tungsten steel.

(

The tungsten steel is with high wear-tolerance)

The whole nail head is made of special model steel and goes through precision machining by computer gongs.
The machine can complete single nail

/

, double nail

//

and enhanced Nail

// / / //

(both sides double nails and single nail in the middle) at one time. It can meet various nails requirements from different customers.

It only takes one minute to change the carton size and adjust the nail distance. So it can greatly save time and simplify the operation.

Our machine have double-purpose, and it can nail both single-piece carton and double piece carton.

Our machine can reduce the worker's labor intensity, so it will improve worker's effiencey and activity.
| | | | |
| --- | --- | --- | --- |
| Machine Type | TY-SF1200 | TY-SF1500 | TY-SF1800 |
| Machine Speed | 300-500 Nails/Minute | 300-500 Nails/Minute | 300-500 Nails/Minute |
| Power (KW) | 2 | 2 | 2 |
| Nail Type(Degree) | 180 | 180 | 180 |
| Nail Line Type | 17#18# | 17#18# | 17#18# |
| Nail Shape | Single Inclined Nail/Double Inclined Nail | Single Inclined Nail/Double Inclined Nail | Single Inclined Nail/Double Inclined Nail |
| Dimension (Length*Width*Height) | 1800*550*1950mm | 2100*550*1950mm | 2400*550*1950mm |
| Weight | 480kg | 530kg | 580kg |